BBQ Smokers 101: What Type of Smoker Should You Be Looking For?
Disclosure: This post may contain affiliate links. If you use these links to buy something we may earn a commission at not additional cost to you. Learn more.
People enjoy smoking their food for a variety of reasons. It is seen as a cultural component for many people and can be a great way to feed a lot of people. This begs the question, what type of smoker should I be looking for?
What type of smoker should you be looking for? There are several types of smokers, and the right type depends on how you will use it. If you are new to smoking, electric and propane smokers are easy to use. If you are looking to cook the best, stick burners are superior. The size of the smoker and temperature control are critical components in determining the type of smoker you should buy.
The first question you must ask yourself when thinking about the right smoker for you is how many people do I want to be able to serve? The second question you must ask is, how much additional work am I willing to do to accomplish the best tasting smoked food? The last question goes hand in hand with your budget.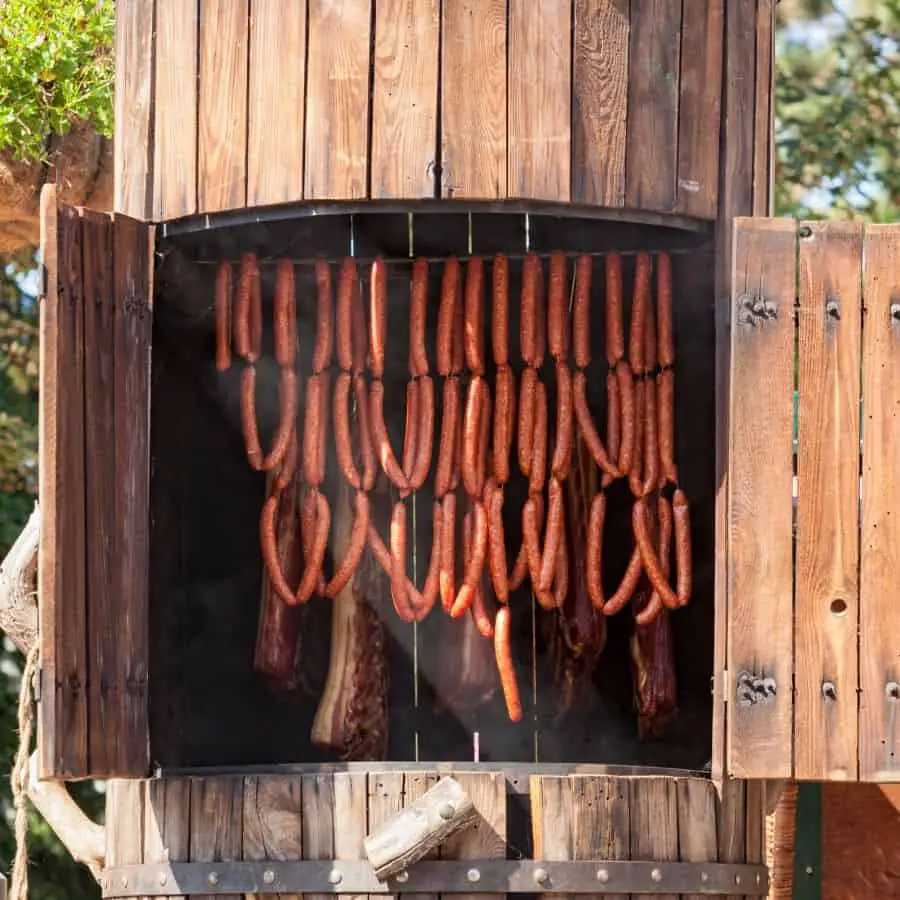 Understanding the Importance of Capacity in Buying a Smoker
The smallest smokers can produce enough food for a large family. The largest smokers make enough barbecue to feed a party all day long, for potentially hundreds of people. It is important that you consider how much barbecue you want to make before you buy. If you are only going to be smoking for the family on the weekend, then a small unit will be enough.
If you want to be able to smoke for a large party, then you will need a lot more space. Most smokers will tell you exactly how much food you can prepare. Generally speaking, you need one pound of raw meat per person. So that means you could need a lot of raw meat.
Moreover, if you only need a smoker for preparing meals for you and your family, a smoker with a smaller capacity can be ideal. This is because smoking enough meat to fill the capacity of larger smokers could require a lot of storage space if you don't have many mouths to feed.
The Five Types of Smokers and Who Likes to Use Each
There are 5 types of smokers, and each has different prominent characteristics. When reading about each, ask yourself if you could see owning that type of smoker.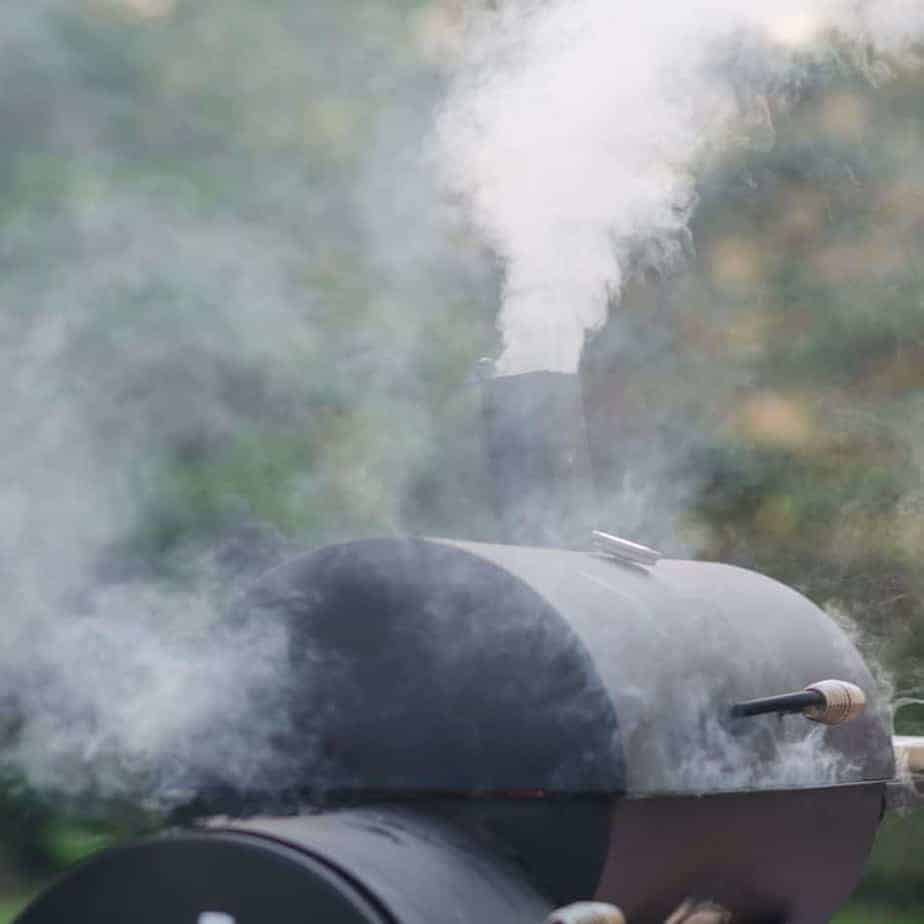 Offset Wood Smokers
Offset wood smokers are also known as "stick-burners,†and they look like the ones you see on TV being used by restaurants and prominent chefs. An offset wood smoker is the classic type of smoker people should think of when they envision Texas barbecue. These types of smokers originated in the oil fields of Texas and Oklahoma, which isn't too surprising.
One of the first makers of stick burners emerged in the early 1980s, when the price of oil dropped from $30 to $10 a barrel. A Texas metal fabricator Wayne Whitworth, who owned an oil contract-dependent business in Houston, started building these barbecue pits to keep his employees busy during the downturn. He called his smoker business, "Pitt's & Spitt's.â€
The offset smoker was designed after many traditional brick smokers found in the U.S. State of Texas. These smokers had a chamber for the flames, and a separate chamber to hold the food and hold the smoke.
Strengths:
The genuine smoke flavor doesn't get any more authentic than that of offset wood smoked meat.
Very traditional. Many would say that you are smoking your food the "right†way or the way it's meant to be done.
Weaknesses:
Cost to buy a stick burner is higher, they start at a few hundred dollars, but a very usable one will cost you more than $1000
Wood costs a lot of money, and these smokers use lots of wood. Depending on the efficiency of your smoker, each smoke could easily run you $20 or more.
It can be a hassle for some to have to light and tend the fire throughout your cook. A cook can also last 12+ hours. This process always seems fun at first but doing all of that every single time can wear people down.
Maintenance is big because they need to be cleaned after each use, not just the grates, but the firebox too.
Pellet Smokers
The most popular brand of pellet smoker is the Traeger, but there are more brands. With these smokers, wood pellets are automatically fed onto an electric element to burn, creating heat and smoke. Pellet smokers are very popular for several reasons. They are high-tech, highly automated, accurate, and produce fantastic results for your food.
When it comes to smoking meat, it doesn't get any better than burning wood. Pellet grills burn pellets, of course. Many barbecue enthusiasts say pellets don't give as much flavor as wood, but this is debatable.
If you're unclear how these smokers work, it's a simple concept. Much like an electric smoker, you will need to measure and regulate the temperature. The difference is that temperature is regulated by controlling the amount of wood pellets being burned in the fire box at any given time. The pellets are the fuel.
These are wonderful pieces of technology, and if you have the money to spend and want the best possible results without having to manage a fire, a pellet grill is the way to go.
Strengths:
Genuine smoke flavor, maybe not quite the same as with the offset stick burner, but still very nice.
Automatic, simply set the temperature and walk away.
Simple to use, fill the hopper with pellets, turn it on, and load the meat or food you are smoking.
Cool, a very slick and effective tool to use.
Maintenance is similar to offset and charcoal smokers. Simply clean the grates and dump the ashes after each use.
Weaknesses:
Cost to buy is often higher. Pellet smokers start around $800 and go up from there. Good ones will be well over $1000.
Cost to run is also not cheap as pellets aren't cheap. Traeger estimates anywhere from 1/2-2lbs/hour of pellets run about $1/lb. As a result, a 10 hour brisket smoke will cost you an additional $10-$20 plus the cost of electricity.
These are smokers and cannot be used as grills like many charcoal and Offset Wood smokers
Maintenance – You'll have to empty the ashes and refill the hopper as well as purchase pellets.
To learn more about how pellet smokers compare to electric smokers, check out electric vs. pellet smokers.
Electric smokers
This is for sure the simplest way to consistently make tender and juicy ribs, pulled pork, smoked beef brisket or any smoked meat of your liking. Other smoker types may produce more smoke flavor, consistency, and simplicity of the temperature controls.
For cuisine that can fall through the grates like smoked salmon, smoked cheese, smoked nuts, and electric smoker is likely the best choice.
Electric smokers essentially have electric elements that provide heat, with an additional method of introducing smoke via wood chips. You put the food inside, set the temp, and come back when done. It really doesn't get any easier than this method of smoking. Most of these smokers are $200 – $300, but some electric smokers cost much more.
Don't be afraid of getting one of these because you'll still be able to make some fantastic meals and recipes. Check out my post on electric vs charcoal and propane smokers for a head to head comparison.
Strengths:
Cost to buy is really great. Cheap electric smokers start under $200 and work OK. Very good ones can run $500 and more.
Cost to run is very minimal as it is just the cost of electricity and a few ounces of wood chunks or chips, maybe $2 per cook total
There is absolutely no hassle, put the meat and wood in, turn it on, and walk away.
The maintenance required is also virtually none. One box of wood chunks lasts for approximately 100 8 hour cooks.
Weaknesses:
Some claim you cannot get an authentic smoky flavor, good heat, or good crispiness but others don't agree with that assessment.
Capacity can be a problem as some of these are pretty small, which might require you to cut racks of ribs and briskets down to smaller sizes.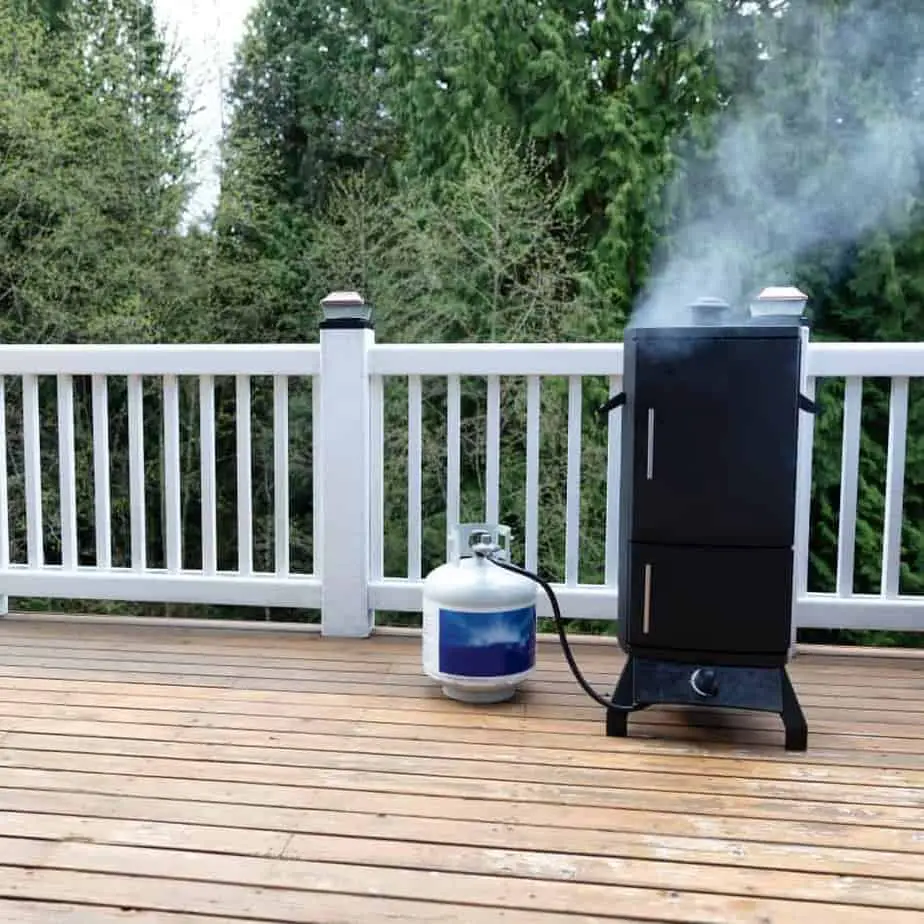 Propane or Gas Smokers
These aren't quite as popular as electrics, but smokers with propane or natural gas as the heat source also utilize and chips for smoke, similarly to electric smokers. Gas smokers are also rumored to provide a bit more smoky flavor than electric smokers, but this could just be a personal preference.
There are not many higher-end gas smokers either. Many of them are cheaply built-in comparison to the lower end electric smokers.
Strengths:
Cost to buy gas or propane smokers is usually very cheap, and most are under $200.
Portability is solid. All you need is a propane tank, your smoker, and some wood chips. You could definitely take most propane smokers camping with you.
Maintenance is very low. Just clean out the wood chips/chunks and tin foil, wipe down, and you're done.
Weaknesses:
Cost to run is fairly high. Propane is very expensive and refilling the tank must be done frequently if you use the smoker often.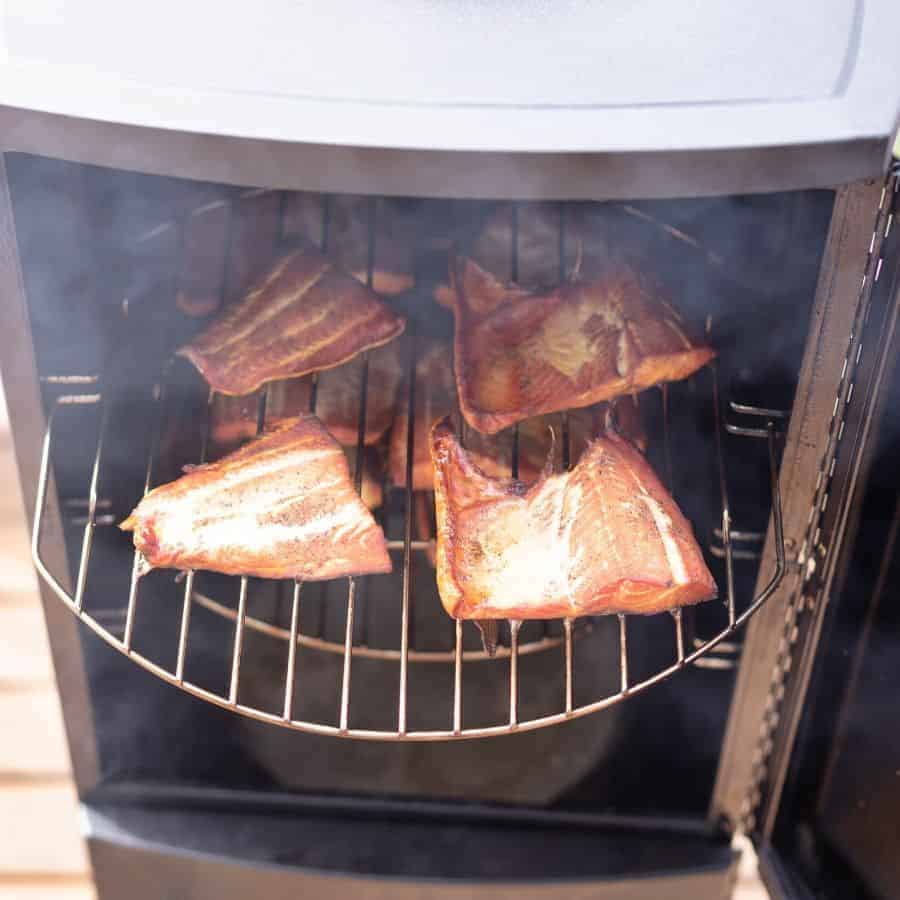 Charcoal Smokers
These are primarily made from barrel drums and are a simple concept. All of these are pretty much the same, you light charcoal and add wood to create the smoke. They are simple, easy to use, and create phenomenal tasting flavors.
Strengths:
Cost to buy could be described as fairly inexpensive. These start just under $200 and max out around $300.
Simple to run. You add charcoal, wood, light it, add meat, and monitor the temperature until done.
The charcoal and wood combination is considered the best smoker flavor, outside of offset wood smokers.
These are also very simple to maintain. You simply clean the grate, empty the ashes and refill with more charcoal next time.
Value is fantastic. Charcoal smokers produce better tasting meat than gas smokers or electric smokers for the same price.
Weaknesses:
Some hassle is involved as you must buy the charcoal, light the charcoal, add wood, and finally start smoking.
Limited horizontal space is a concern.
Five of the Best Smokers for Beginners
Many people new to smoking ask themselves if they should buy a cheap smoker to learn on and then upgrade later on. It is very easy to find cheap, $50 – $100 smokers at hardware stores and even some grocery chains. If you're still using a lower-end option and having fun after a season, then you can invest in a better quality smoker.
This is a good strategy for some people, but there could be a downside to this strategy. The biggest issue with this it is that cheap smokers have terrible temperature control. With a cheap smoker, you're going to spend more time struggling with the effectiveness of your smoker due to poor heat retention.
Another way of viewing this dilemma is by asking yourself: Is there any point buying the cheapest guitar to learn on, when even Santana himself couldn't make it sound good?
Some say yes, others say not so much. Go with your gut, because only you really know how interested you are in getting into smoking and buying a high-end smoker.
Below are five smokers that, according to smokedbbqsource.com, are some of the best options that cost less than $500. This price range makes these smokers great for beginner pitmasters.
1. Best charcoal smoker for beginners – Weber Smokey Mountain 18-Inch
The water smoker design makes temperature control easy for beginners. The water bowl remains between the coals and the cooking grates. This acts as a barrier while adding humidity to the smoke chamber, which helps to stabilize temperatures.
This is an amazingly versatile smoker. While it makes a great first smoker, many experienced cooks have upgraded to the Smokey Mountain after they have gotten tired of using a cheap offset smoker.
There are also lots of clever ways to enhance your Weber Smokey Mountain's features.
2. The best charcoal alternative to the Weber Smokey Mountain – Pit Barrel Cooker
The unique design of this charcoal smoker gives you a fair amount of extra space for food as well as some other benefits.
The meat isn't simply sitting on a hot grill rack, so it cooks more evenly. As the meat dangles above the hot coals, the juices from the meat drip are cooked, creating extra smoke and flavor. In short, this charcoal grille creates delicious food.
Produces very stable temperatures. The drum is very well insulated, making temperature control easy.
Build quality is underrated. The smoker's sturdy 18-gauge durable steel with porcelain enamel coating will give this piece of equipment a long life.
3. The Best affordable electric smoker – Masterbuilt 30-Inch Digital Electric Smoker
This smoker has a nice amount of space for food. The 30 inch digital model comes with 730 square inches of cooking space, almost the same as the largest 22″ Smokey Mountain for only a fraction of that price.
Features simple temperature controls that allow you to smoke your meat from 100 to 275°F, a nice range that makes the unit useful for a variety of smoking situations.
Masterbuilt sells a wide range of optional accessories. These include a cold smoking attachment that is great if you want to give cold smoking a try.
The Masterbuilt is certainly not a perfect smoker, and it definitely wouldn't impress a highly traditional pit-master, but if you want to eat barbecue without any trouble or mess than it could be a good, cheap option for you.
4. Best Pellet Smoker For Beginners – Traeger Renegade Pro
This smoker is made more accurate by an internal thermostat so you can safely leave it cooking all night without worrying about temperature changes. This smoker produces easy-to-see and accurate temperature readings in real-time.
Very Portable Design and dimensions. This smoker only weighs 60 lbs, making it very easy to transport from one place to another or store in tight spaces.
Traeger offers a 3-year warranty for this product. This warranty covers every aspect of the grill itself as well as its various parts.
Composition wise the Traeger is made out of heavy-duty steel and should withstand plenty of wear and tear.
The ease of use is the most valuable aspect of this product. Simply connect the smoker to an electrical outlet, select your desired temperature, and put your food on in the smoker. It only takes a few minutes before you'll be smoking.
Here is a link to easily stock up online on a variety of different types of wood pellets. Each type of wood has its own flavor profile, which matches up best with certain types of food as well as additional flavors.
5. The Best Gas Smoker For Beginners – Char-Broil Vertical Gas Smoker
The Char Broil Vertical is a high capacity smoker as it contains 595 square inches of cooking surface. Some say this figure is a bit deceptive though as this smoker is relatively compact width wise and it struggles to hold a full slab of ribs so definitely consider what you plan on smoking.
The value for the money you pay is great with this smoker. For a price well within most people's budget, you receive a decent-sized smoker with a warming rack and three cooking grates.
This equipment is very heavy, so it's not the most portable if you plan on traveling with it.
In terms of the smoker's quality, you're getting decent steel and solid insulation. On the other hand, the thermometer is not great as far as built-in thermometers go, so definitely make sure you get a decent thermometer setup.
What If I'm Looking for the BEST Smoker On The Market?
If you have done a lot of cooking with smokers, and you feel like your feel for cooking in this style is great, then maybe you shouldn't be concerned about your smoker having "training wheels.†If you are one of these people, then let's talk about what factors you should consider when buying a smoker.
Value – A smoker's value shouldn't be based solely on price. It's one of the factors an individual considers when determining value, but you also must look at each smoker's features, design, functionality, engineering, and quality of materials.
Durability – Some smokers are built with more economic, lower-quality components like painted steel or low-grade parts that'll eventually be broken down by usage and the elements. This is why a serious pit master only considers smokers made of durable materials such as 304 stainless steel or cast aluminum that do not rust or corrode.
Performance – Experts from bbqguys.com utilized several factors when grading smokers for cooking performance. Smokers that cook the best food have wider temperature ranges, very even heat distribution and are sealed tight to hold in smoke as well as retain heat.
You may pay more upfront for these types of smokers, but you'll enjoy better performance and longevity in the long run. Nothing is worse than a quality piece of equipment failing you when you need it.
Some Final Thoughts
According to amazing ribs.com, here is a short summary of what you should be focused on purchasing a barbecue smoker.
Delivering the meal on time is the most important factor when smoking a lot of food for people. That's why it is of the utmost importance that you look for a smoker that you know you can control. By this, I mean one that you know you are capable of heating up properly and tending to that heat.
The problem is not many outdoor smokers have built-in thermostats; in fact, very few do. The exception of note is pellet smokers. Better models have highly reliable thermostats built into them for no additional charge. You simply pick a number, set it and forget it.
Electric smokers, of course, have thermostats, and food cooked on an electric smoker can still be wonderful, but to be completely honest, the flavor for the majority of foods smoked in an electric smoker is inferior to wood, charcoal, and even gas.
Many popular charcoal smokers make it easy to control temp, and if you want to make it even easier, there are thermostat add-ons that really work well. The fanciest of these add ons can even be controlled using your smartphone.
Gas smokers produce a unique and exquisite flavor, they are fairly easy to "set and forget,†and they are also very cheap. If you are looking to get a great middle of the road smoker for all purposes, a gas smoker is a great way to go.
It is important to remember that if your objective is to cook the very best at a barbecue contest level, then you should use an offset wood smoker.