Are Electric Smokers Better Than Charcoal or Propane?
Disclosure: This post may contain affiliate links. If you use these links to buy something we may earn a commission at not additional cost to you. Learn more.
Smoking food is a classic way to add a fantastic, savory flavor to your meals. Some interested in smoking their cuisine may wonder about the different types of this method of cooking. The differences between Electric, Charcoal and Propane Smokers are simple enough to understand.
What are the differences between these variations of smokers, and is one better than the others? In reality, there is no such thing as a singular best smoker type for everyone's needs, but in short, the three types of smokers differ in their authentic smoke taste, ease of use and portability.
Choosing the right smoker is about picking the one that fits you and your smoking needs best. If you value convenience over everything else, you'll likely be interested in an electric smoker. If it's that authentic smokie taste that you are craving, then you should consider a charcoal smoker. If you are looking for a more balanced option of the two, you should start by considering a propane smoker.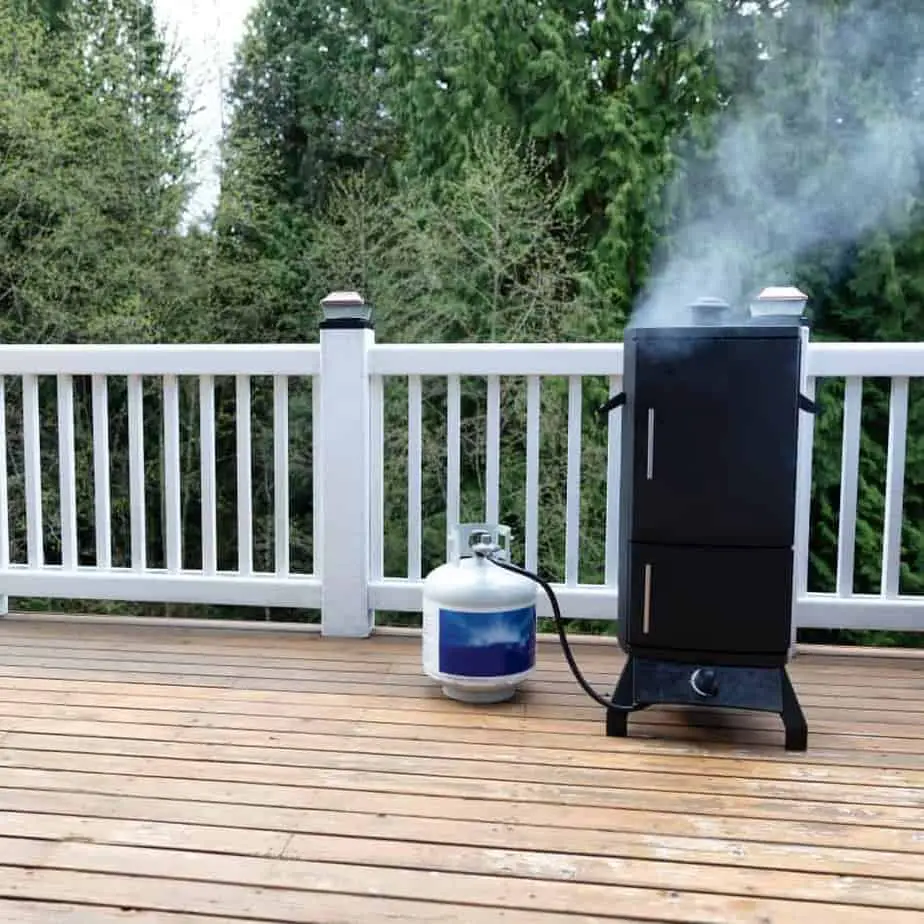 What are Electric, Charcoal and Propane Smokers?
Before we can talk about the differences between electric, charcoal and propane smokers in terms of the factors mentioned above, we must understand the basics of what each of these devices are individually.
Smokers are of course any apparatus used to cook food at a low temperature at a controlled smoky environment, but the most common types of commercially sold smokers are electric, charcoal and propane smokers. The concept of smoking food is also a longstanding tradition amongst many cultures, and the United States is certainly one of them.
Electric Smokers
Electric smokers cook your food utilizing electricity derived heat and vents, although the electrical heating elements do the bulk of the work. It is smart to allow some time for an electrical smoker to heat up to your set temperature before you start cooking. Electric smokers can be thought of as an oven that cooks low and slow. Finally, they are safer than propane or charcoal smokers.
As stated, the electric smoker's best attribute is its convenience. All it takes to start it is a simple push button. These smokers can come in both analog and digital styles. Analogs have adjustable thermostat dials for changing their temperature while digital electric smokers have a digital screen with push buttons to set the temperature.
Electric smokers cook faster than their propane and charcoal counterparts, but at the cost of some of that rich smoky flavor. Also, electric smokers utilize electricity and must be plugged into an outlet. This means that you would need a generator to make your electric smoker portable. Some electric smokers give you the ability to add wood chips to aid the flavor of your food.
Propane Smokers
With propane smokers, you never have to worry about using electricity and they are far more convenient than charcoal smokers. Propane smokers also offer a significantly better smoky flavor than electric smokers. Most propane smokers have built-in temperature gauges and are ignited using a push button.
The only real inconvenience with these smokers are the propane tank. You must develop a sense of how much propane is left in the tank and be in a position to replace or refill your propane tank when you plan to use your propane smoker. The maximum temperature of a propane smoker is higher than that of an electric smoker.
Charcoal Smoker
The charcoal smoker takes the cake over the other two in terms of that authentic smoky taste. Nothing can beat the taste of real charcoal. But, as with most things that produce the best traditional result, managing and starting a charcoal smoker is harder than doing the same in an electric or propane smoker. You must constantly be either starting, stoking, watching or disposing of your charcoal.
You can also add flavors more freely with a charcoal smoker. By substituting flavored charcoal for regular charcoal, you can tweak the flavor of your food. You can go even further by adding flavored wood chips to your charcoal. By adding flavored charcoal and flavored wood chips together, you can really create rich and complex flavor profiles in your food.
Are There Other Types of Smokers?
While we will not talk about the Pellet Smoker, it is another alternative to the three discussed above. The pellet smoker aims to combine that delicious flavor that comes from a charcoal smoker with the ease of use that comes with electric smokers. These usually have temperature control dials and give you a better smoky flavor than the electric and propane smokers.
You must make sure that you have enough wood pellets in the smoker at the beginning, but after being sure of this, the ease of use is similar to an electric or propane smoker. Most people do say that the smoky flavors you get from the flavored wooden pellets are not as rich as you would get from charcoal, but pellet smokers are the next best in terms of taste.
If you are looking for additional information on these differences, here is a good source and here is another.
Differences Between Electric, Charcoal and Propane Smokers
| | | | |
| --- | --- | --- | --- |
|   | Electric | Charcoal | Propane |
| Ease of Use | The Electric smoker is typically the easiest to use of the 3. This is due to its easily adjustable temperature features. | Charcoal smokers need to be constantly tended to use successfully. They are the hardest of theses three. | Propane smokers are also very easy to use. Simply hook up a propane tank and hit the ignitor button. Propane smokers are moderately easy to use. |
| Authentic Smoke Taste | Electric smokers are easy to use but they are known to produce an inferior taste to charcoal smokers. | The Charcoal smoker is know more having the very best taste of these types of smokers. | Propane smokers do not create that fantastic smoky taste in food, but the taste created is better than electric smokers. This places the taste quality for propane smokers in between electric and charcoal smokers. |
| Portability | Electric smokers are only portable if you can also bring a generator with you. This makes electric smokers the least portable. | Charcoal smokers are moderately portable. While you won't need a heavy generator, you will need charcoal and potentially wood chips. | The propane smoker is the most portable in comparison to the electric smoker and the charcoal smoker. The only thing you need is a propane tank and you will be good to go! |
What are the Best Product Types of Electric, Charcoal and Propane Smokers?
There are many brands of each of the three types of smokers. Each brand has its strengths and weaknesses and will be best fit for preparing certain types of food. For each product discussed, the name in the title will have a link to view the product. First, we will take a look at some of the top electric smoker products on the market.
Five Great Electric Smokers (START EDIT)
1. 4'' Masterbuilt 20075315
The good people at Masterbuilt got it right with this model. From ease of use and cleaning, space, maintaining its temperature and smoke, to the taste it delivers and the price, this is a fantastic smoker! It seals shut tightly and it's also insulated, which means it maintains its temperature throughout.
The Masterbuilt smoker is very easy to use and it even includes a handy temperature remote control. This simple but clever accessory allows you to control the smoker from up to a hundred feet away, which means you can turn it on and off from the comfort of your living room and change the temperature to your liking.
But it is also great value for your money, offering a wide range of features that you'd find on some of the more expensive units.
2. Bradley Digital 6 Rack Smoker
Price wise, this one is on the affordable side. And like the Masterbuilt 40-inch, it's really well insulated which allows this smoker to maintain the temperature with a steady smoke supply. Whether you're a beginner or a veteran you will have complete control of the temperature, the cooking time and the smoke.
Where this smoker falls short is its lack of portability. The unit doesn't have wheels, making it difficult to move. Also it's marketed as a smoker capable of withstanding tough outdoor conditions, but there are a few people who've commented on it not being able to withstand strong winds, which can affect the temperature stability.
3. Char-Broil Deluxe Digital Electric Smoker, 725 Square Inch
Char-Broil is one of the biggest manufacturers of smokers and other barbecue oriented products. This gives the advantage of economies of scale, meaning they can be competitive with their pricing. If you're starting out and want to buy a cheaper model before upgrading to a more expensive one, this could be a great purchase for you.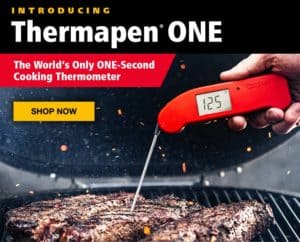 If you're in desire of a smoker that can reach high temperatures quickly, then this isn't a great option for you. It gives off a fair amount of smoke which makes it hard to retain temperatures of 300 degrees fahrenheit or more unless you add more wood pellets.
Everything about the Char-Broil Electric Smoker is easy. It's easy to assemble, to move around and to use. It has a fully integrated meat temperature probe which allows you to cook your meat to your preferred temperature. Also, if you're not around when it's done, it shuts down the cooker while simultaneously keeping the food warm for hours.
4. 30'' Masterbuilt 20070910
This is also a great smoker for those watching their budget or simply starting out. The unit maintains heat and smoke really well because of its insulation.This smoker is also easy to use and doesn't take up a lot of space. It also contains four removable racks, with a very sizable smoking area.
The only negative with this one is that it does take quite a bit of time to heat up but that can be managed by starting the smoking earlier in the day before you put the meat on. This is hardly even a negative, as long as you can remember to plan ahead.
5. Cookshack SM009-2 Smokette Electric Smoker Oven
Made in America, this very small but super durable smoker was constructed using welded, double-walled, heavy-gauge stainless steel. Even the hardware is heavy duty which means this smoker was built to last. This one is a bit pricier, but you know it will last.
The Cookshack Smokette Elite Electric Smoker Oven is capable of smoking at temperatures up to 300 degrees. The LED control panel shows you the temperature inside the box as well as the temperature of the meat itself when the included commercial quality probe is inserted.
If you are interested in buying wood chips for your electric smoker but you are not sure where to start, here is a great guide that can help advise you on purchasing wood chips. The guide breaks it down by different flavors of wood chips and what types of smoked food go well with each.
Five Charcoal Smokers
The Weber Original Kettle Premium Charcoal Grill, 22-Inch is a medium-sized grill that provides plenty of space for cooking for a family or a small group. The Weber Kettle is a versatile grill that can be used for both traditional grilling and indirect smoking.
The Kettle's durable, porcelain enameled bowl has nearly 400 square inches space. This premium version also includes a one-touch, easy to use ash collection system. This allows users to quickly disconnect the ash collection tray and empty when necessary.
It is also easy to transport, a thermometer, vents for heat control and exterior utensil storage hooks.
2. Char-Broil American Gourmet
If you're just getting into charcoal smoking and looking for a smoker for your next backyard cookout, the Char-Broil American Gourmet Offset Smoker is a simple, trusted option that won't cost you an absurd amount of money.
The Char-Broil American Gourmet is a simple, average size charcoal smoker with plenty of space for a family cookout or a few friends. This grill has an area for smoking and a separate firebox that can also be used for direct cooking and searing.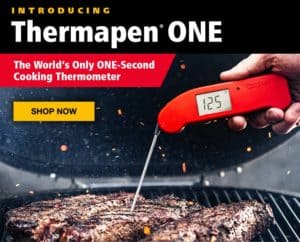 With plenty of vents and a temperature gauge, tracking and adjusting temperatures is fairly easy to manage. Inside, the American Gourmet has trays for both wood chips and water, making it easy to add extra flavor and moisture. Wheels make the American Gourmet easy to transport or move around your property.
3. Weber Smokey Mountain 22-Inch – Charcoal Smoker Vertical
For simple, authentic charcoal smoking, a vertical smoker provides lots of space in an easy to use platform. The Weber Smokey Mountain Cooker 22-Inch Charcoal Smoker is a durable smoker with enough space to cook for a crowd.
With enough space for a turkey or other large items, this smoker is fitted with a large porcelain enameled water tray to keep meats moist and tender. A side access panel allows you to quickly add charcoal, wood chips, or water without disturbing the food. Also, upper and lower vents provide a form of simple temperature control.
4. Char-Griller 2-2424 Table Top – Small Unit
If you're tight on space or want a charcoal smoker you can take with you, check out the Char-Griller 2-2424 Table Top Charcoal Grill
This small charcoal grill still has about 250 square inches of cooking space, despite its compact size of just 18.5″ x 17″ x 16″. With a barrel shape that's suitable for both indirect, 2-zone smoking and direct grilling, this little Char-Griller is a very versatile unit.
As the name implies, this smoker is designed to sit on a table or other flat surfaces. The short legs hold the Table Top only a few inches off the ground.
The exterior of this grill is constructed of heavy duty steel with a wood covered handle and vents at either end. Inside, you'll find a long-lasting cast iron cooking grate.
For true portability, it's hard to go wrong with the classic Weber Smokey Joe Premium 14-Inch Portable Grill. This little grill is truly compact and portable with a cooking grate that's just 14.5 inches wide.
The Smokey Joe also employs a handy retainer for the lid that keeps the unit in one piece during transport. The same retainer also forms a rest for the lid while cooking.
At less than 10 pounds, the Smokey Joe is also very easy to transport for camping, cookout, tailgates, or other events.
The only downside to the Smokey Joe is its size. At only 14.5 inches wide, it's probably not the best way to smoke foods, but will work with smaller dishes.
Five Propane Smokers
This is a great smoker because of its efficiency in producing a larger food quantity than its size would suggest. The Masterbuilt Black Propane Smoker is a 40-inch sized smoker containing a total of 4 interior smoking racks that has the ability to cook nearly 100 pounds of meat. This makes it unbelievably useful for camping trips and parties alike.
This propane smoker contains 4 stainless steel burners which guarantees enough fire for smoking food much faster. This smoker also features a push button ignition and its gas control valve is powered by a Type 1 regulator. So this product is safe, and it comes with free additions!
Strengths
Plenty of cooking space
Easily heated
Great steel construction
Weaknesses
Slightly pricey
Poorly built wood chip holder box
2. Dyna-Glo DG784BDP Vertical LP Gas Smoker
This 36-inch smoker is small horizontally, but still large in capacity. This also means the smoker's portability and storage space factors are highly valuable. It's well constructed and will be a durable and long-lasting purchase for you.
This smoker features a push-button electronic ignition allowing it to start and light up with ease. One disadvantage to this feature may be its inability to start up your Dyna-Glo if your home does not have electricity.
This is again, a large capacity smoker that can be ideal for big numbers, offering close to 784 square inches of space for cooking up food. This product has awesome cost, durability and offers a great amount of space to cook.
Not easily rusted
Wide cooking space
Easy readable temperature gauge
Larger smoker box
Weaknesses
Doors not completely sealable
Slow heating
3. Cuisinart COS-244 Vertical Propane Smoker
Certainly the most obscure and interesting fact about this smoker is its vent design can be manipulated to transform this device into a table top! This of course indicates how large and spacious the Cuisinart really is.
The Cuisinart Vertical Propane Smoker contains 4, 14 x 14 inch cooking grates that can cook enough food for eight people. It's also important to note that the racks are also removable.
Another cool and extra feature to this smoker is its 40-inch propane hose with an included regulator. This will save a bit of extra money that you would have had to fork over to a third party distributor. And of course having these attachments included will save you the hassle of the extra purchases.
Strengths
Easily readable thermometer
Durable construction
Good value for money
Weaknesses
4. Camp Chef Smoke Vault Propane Smoke
At 24 inches in size, this is a very small smoker. Sizes are an essential aspect when grilling and the Camp Chef company creates a very interesting model on this make.
Additionally, this machine comes with a total package for the entry level user by providing enough tips, guidelines and recipes to aide you in making some great food. The size of this smoker makes it available for even college students and those working with limited space.
Strengths
Easily assembled
Maintains even temperature within
Great construction
Space saving device
Weaknesses
Smoke leakage from doors
Poor air vent closure
5. Char-Broil Vertical Liquid Propane Gas Smoker
This is a very big smoker and a great recommendation for a big family. With close to 600 square inches of cooking surface area and 3 cooking grates, this smoker comes with enough space to make food for a large group of people.
For a great price, this smoker comes with a water holding pan to add moisture, and a wood chip tray to add smoky flavor. In terms of managing temperatures, the Char-Broil company usually impresses its customers.
Because it is one of the very cheapest on the market, the smoker features an easy to adjust upper vent for simple heat control. It also has a top grate that can be used to warm up food, or keep it hot.
Strengths
Economical price and gas usage
Easy to clean
Great food results
Lightweight for easy mobility
Weaknesses
Poor quality water and wood tray
Poor temperature control
Some Other Important Considerations When Deciding On What Type of Smoker to Buy
High Heat vs Low Heat
Without question, electric smokers are easier to use to smoke food at a very low temperature than propane. Most electric smokers hit a maximum temperature of 225F, but can sustain a temperature of 275F.
An electric smoker is also great for making delicious beef jerky. Simply run your electric smoker at 160F and the jerky will turn out perfectly chewy. Keeping a propane smoker steady at a temperature this low is pretty tough and some cannot at all.
Propane smokers run in the 225-275F range with relative ease. Propane's also can easily be fired up as high as 350-400F. Being able to hit high temperatures like these for a smoker is great if you really like to cook meat with skin, and you really like to eat said skin at a very crisp, crunchy and burnt texture.
Reliability Comparisons
Propane smokers are usually always more reliable than their electric counterparts. This is generally because propane smokers are simpler pieces of equipment, and they have simple mechanical setups that are harder to break.
Keeping an electronic system located in a moist, greasy and hot environment healthy is tough. And the problem is when the control panel or any of the connections fail, then so does the smoker as a whole.
Considerations for Bad Weather
One of the things you must think about when getting a smoker is rain. Please refrain from using an electronic smoker in the rain. As stated before, losing the control panel of an electric smoker means losing the smoker.
There are not safety concerns with using a propane smoker in rainy weather but there can be performance issues. For example, the majority of propane smokers are not as well insulated as decent electric smokers. Wind, snow and rain can suck the heat out of a propane smoker and you will need to spend a lot of time tending to and adjusting your fuel usage.