Get Some Sleep by Picking the Best BBQ Temperature Controller
Disclosure: This post may contain affiliate links. If you use these links to buy something we may earn a commission at not additional cost to you. Learn more.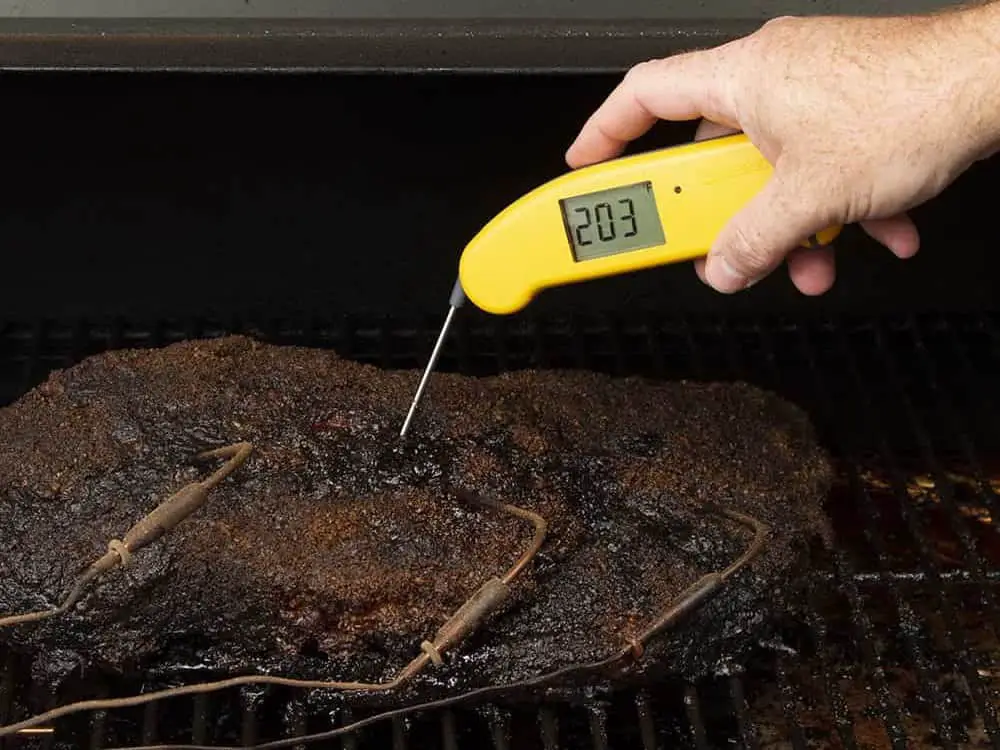 There are a lot of options on the market when it comes to BBQ temperature controllers. Whether you're a seasoned pitmaster or a newbie who wants to protect their meat, it doesn't matter, having a temperature controller is essential. So, which is the best and which one is better for you?
That depends entirely on what type of temperature controller you need for your cooker and what kind of specifications you're looking for. So, here we have compiled a list of some of the best of the best, and you can choose which one fits your budget and works for your BBQ needs.
Flame Boss 500
According to most pit masters, this is one of the best (if not the absolute best) option to choose. The precision at which you can control the temperatures is impeccable, and causes a lot less stress because you know exactly how your meat is being cooked at all times. You know exactly how hot, or "cold" your cooker is, at all times. It comes with a multi-speed fan, which makes it even more effective, and quick, at controlling temperatures, whether it gets too hot or cold at any given time. With a click of a button you can control it from your phone or laptop.
It's also relatively universal, except for a few different grills that you can't hook it up to, which is great because you can purchase and plug it in with no problem. Not only is it relatively universal, it is also incredibly easy to hook up. And, it learns how to cook your meat over time, like an A.I. type of thing. Which makes it easy to learn how to cook your meat without you having to experiment too much; it will take a few times, but don't worry, you'll get the hang of it. All of it is displayed on the screen; the temperature your pit is at, as well as the meat's internal temperature, all ready for you to read in a matter of seconds.
FireBoard FBX11 Thermometer and Blower
This is included because you can purchase it as a double package, or just purchase the thermometer on its own. However, purchasing the thermometer and blower together is like having Batman and Robin together, its called teamwork. Of course, these are a pricey option, but its not something you will want to miss out on. It'll usually cost a little over $300, but if you're looking to protect your meat, then this may be the option for you.
Of course, another app related thermometer is exactly what you need to keep your meat cooked while also sitting down at the same time. To control the fan speed as well as check on the temperature of your meat makes it so easy to use. Again, controlling things comfortably is what the world is looking for, and being able to check the speed of the fan and the temperature is as easy as pressing a button from the couch or even the toilet.
This model is a fan favorite, of course, and can certainly compete with the Flame Boss options. The customization of having the blower with the thermometer is usually what catches people, because of a price difference. it does happen to come with six probes, which means you can cook a variety of meats at a time, which also means that you can cook things and adjust the temperatures accordingly and know what the temperatures are of each meat. You can program the temps accordingly so as to choose what you need for which meats, instead of choosing from a designated list, which may or not be a problem. Nonetheless, a great option to consider.
BBQ Guru DigiQ DX3
If you're looking for an option that is a bit more budget friendly, then this may be the thermometer for you. This model, however, does not come equipped with wifi. You can't control the temperatures of your meat or your cooker from your phone, which can prove to be unfortunate for some. This particular thermometer only comes with two probes, one for the meat and one for the wood/coals to check their temperature. This makes it super easy to use, thankfully, but it still means you'll have to spend your time being close to the cooker so as to prevent burning or overcooking.
This one isn't as universal as most, so you'll definitely have to check to make sure that it is compatible for grill or smoker. It's known to be incredibly accurate and reliable when it comes to temperature readings, which is great considering you may be freezing trying to make sure your meat doesn't get a little more well done than you'd like.
The fan that it has is automatically controlled, and can't be changed through the app, unfortunately. Because of this, it does reach high speeds, which makes it perfect for larger smokers so as to control a large amount of meat cooking. However, one small great thing is that it does help to prevent overheating by turning itself over and adjusting itself every time the grill is opened. By turning itself off every time the lead is open helps to prevent overheating and overcompensating because of outside air and/or forces.
Pitmaster IQ120
This is one of the more budget-friendly options. It's not often you can find something affordable when it comes to temperature controllers, so here it is. This is usually a great option when it comes to fairly user-friendly if you're new to the pitmaster universe. Although it doesn't store data for future use of monitoring meat heat, or being able to control the speed of the fan, it can also be super helpful for those just learning or not looking to have something too sophisticated for their smoking purposes.
It comes with two probes, one for meat and one to monitor the heat of the coals. Easy peezey lemon squeezy, thank goodness. Rather than having a built-in fan, air comes through a hose, which is a little less easy to control. It does have a built-in alarm, which will let you know if your smoker or grill is not at the designated temperature. It is super easy to set up, but does have to be plugged in, which can be a minor inconvenience to some.
One of the other slight downfalls is that the hose that feeds in the air is made of plastic. This can definitely be a cause for concern, since it has a high probability of being able to melt at any given time. Obviously, the extreme heat can pose a problem, but the affordability may be better. But, if its not used very often and works for its desired use, then it may not be as big of a deal for some pit masters, especially those new to our club of smoking delicious meats.
BBQ Guru CyberQ Cloud BBQ Temperature Controller
Starting off with a bang, instead of just having two probes, there are four probes that come with this temperature controller. It can be difficult to smoke multiple kinds of meat when there are only two probes to work with. We're looking for time saving properties while also being efficient. Cooking multiple meats at once means you can get everything done and ready to eat at the same time.
And, of course, this can all be controlled from the comforts of your smartphone, so long as you have Wifi. This is definitely the more preferred way of cooking meat, unless you prefer having to stand around and check on your food every fifteen minutes.
Do you want another perk? This thermometer learns about your meat while you cook. Some of you may be asking yourself what exactly this means. It sounds funny, but over time, it will be able to track the preferred temperature and time it takes to cook your food. With target temps and alarms for alerting you when your meat is done, you'll always know when you're meat is at the desired temperature and when it's done cooking. It understands target temperatures and has the tracking capabilities needed to understand your smoker and your cooking skills over time.
ThermoWorks Signals and Billows
If you're looking for something that is extremely budget-friendly, then this is an excellent option for you. However, because it does happen to be budget-friendly, that means it comes with far fewer features than most of the other temperature controllers. It's not a smart device, and it doesn't track temperatures or anything similar. You can't couch surf with this thermometer. However, ThermoWorks is a very popular option when it comes to purchasing a quality, cost-effective thermometer.
It does have a connective device that links the thermometer to a screen so that you can monitor temperatures and see individual temps for each meat that is being cooked simultaneously. It's not really anything as fancy as being able to hook up to your phone and sit comfortably knowing the device has full control, but being able to still see temps and what is kind of going on inside your smoker is still important. But what you're looking for is quality and longevity when it comes to having a great product.
The only real downfall this model has is that it's not a smart device like many of the others we have listed previously. It may not be a set back for some who aren't looking for something too advanced, and may be easier for those who are looking for something less complex and easier to follow. Though it tracks temperatures, it's not a smart device. It's also very specific, and works with certain smokers as well as blowers. Functionality may play a bigger factor than what the price tag is.
Auber Instruments WiFi BBQ Controller
Believe it or not, this is actually one of the top temperature controller's available, if not the top controller. It received the Platinum Medal award in 2018 from AmazingRibs.com. That usually means something when it comes to receiving an award for doing something as simple as making a great thermometer, but this isn't just any old thermometer. All of the capabilities that you could ask for are all wrapped into one black box.
Again, another smartphone controlled device, which allows you to control things from inside, rather than being forced to hover around your grill or smoker. There are also three fan modes; pulse, proportional, and manual. Of course, manual is exactly what it sounds like. While pulse switches from being on and off, and proportional is a constant, low fan speed. You can also choose what size of fan you want, depending on the size of the smoker.
Not only do these fan modes make this thermometer an excellent choice as a gold standard option, but the sensors are also just as equally amazing. The probes use PT1000 RTD sensor technology, which is literally the best of the best when it comes to the technology of probes. This is likely the highest type of sensor you can have with a thermometer, which means that it can read temperatures far better than other probes. If you want a top-notch product for your grill that may be the best the industry has to offer, this may be the one for you.