8 Styles of BBQ You Need to Try During Your Next Cookout
Disclosure: This post may contain affiliate links. If you use these links to buy something we may earn a commission at not additional cost to you. Learn more.
Summertime brings with it the cravings for smoked pork ribs, chuck roast, beef ribs, chicken and really any other pig and cow meat you can find to throw in the smoker in the backyard. If you're looking for an article about smoked tofu, and how to save pigs and cows, this article might not be for you. We are going to take a dive into the mouth-watering world of BBQ in the United States.
You see every region, has its own style of barbecue, of course. Here in America, it's all about loyalty to your state and region. It's the same reason we are so big in local sports teams.
In this article, we will look at the four most popular regions for barbecue in the United States and their 8 different styles of bbq for smoking meats, here's a quick guide for reference:
Region

Styles

North Carolina

Western Style (A.K.A. Lexington Style): Pit style barbecue with a sweet or spicy tomato-based sauce.

Eastern Style: The whole hog with a thin, non-tomato based sauce.

Tennessee

Memphis Style: Pork ribs and shoulders slow cooked to perfection in a dry or wet rub, served with no sauce.

Kansas

Kansas City Style: Any meat, rubbed down and smoked to produce crispy burnt edges, served with a sweet, spicy, or tangy tomato-based sauce.

Texas

Central Texas Style: High-quality meat rubbed in salt and pepper cooked over pecan, mesquite or oakwood. Served with no sauces or seasonings.

East Texas Style: Chopped and sweetly marinated meat that is cooked over hickory until it's falling off the bone.

West Texas Style: Also known as cowboy style, it's the same as East Texas with the added exception of using mesquite instead of hickory.

South Texas Style: Meat that is lathered in thick sauces during and after cooking to keep it extremely moist.

Barbacoa:
Who has the best BBQ is a sensitive topic for some folks of these regions, so we will try to keep this article completely unbiased.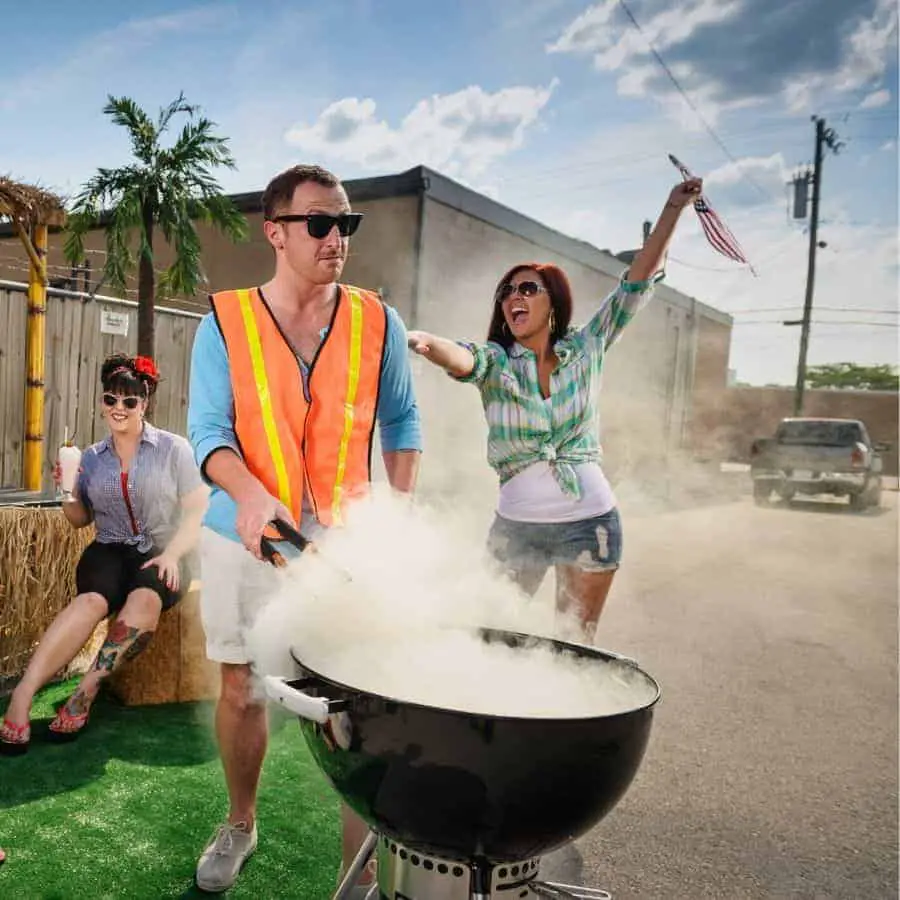 1. North Carolina Styles
Before we move any further, let's clarify one thing. In order to talk about barbecue in North Carolina, we have to make a clear divider in the sand between Eastern North Carolina and Western North Carolina. Believe it or not, they have two different styles of barbecue.
North Carolina has a whole lot of history dating back to colonizers, and their food has been influenced by many sources like Native Americans, enslaved Africans, and more. One thing the two sides of North Carolina have in common is their shared history of pig pickin'.
What is a pig pickin'?
A pig pickin' is exactly what it sounds like. An entire hog is barbecued for an event, be it just a barbecue, a wedding, a birthday, what have you. The hog that is most commonly between 80 and 120 pounds is basted during the cooking process, and depending on the region, eastern or western, you'll get different methods and sauces for this.
Once the pig is completely cooked the meat will be nearly falling off the bone, the host will either chop or pull the pork meat from the pig, or guests will take turns doing it themselves. You're probably wondering how long it takes to cook an entire pig? About eight hours to be exact, given the right conditions. You'll want to be up early ahead of your event to get the process started.
Western North Carolina Style Also Known As Lexington Style
Lexington Style focuses mainly on pork shoulders and will use a red sauce or dip that is seasoned with vinegar like apple cider vinegar, a dash of ketchup, red pepper flakes and a combination of spices that will likely change depending on the family recipe or the cook's favorite recipe. The sauce will be either sweet or hot and spicy.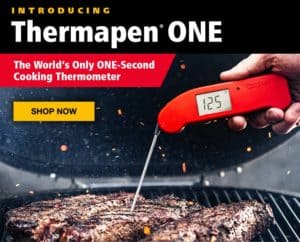 Many folks will use the dip as a base for what is known as "red slaw" this is just simply coleslaw that uses Lexington style barbecue sauce instead of mayonnaise.
Here's a Lexington Style Barbecue Sauce Recipe from Finecooking.com
Ingredients
3 cups cider vinegar
3/4 cup tomato ketchup
6 Tbs. light brown sugar
3 Tbs. granulated sugar
1-1/2 Tbs. kosher salt
2-1/4 tsp. finely ground white pepper
2-1/4 tsp. red chile flakes
3/4 tsp. freshly ground black pepper
Eastern North Carolina Style
Eastern-style barbecue will focus on the entire hog and a lot of the times, the meat from every part of the pig is mixed together with no preference. The sauce is essentially vinegar and pepper-based sauce but without any tomatoes, as seen in the Lexington style. This thin sauce most commonly features cayenne pepper.
Try this 4.8 Star Rated, Eastern North Carolina BBQ Recipe, from FoodNetwork.com
Ingredients
2 cups apple cider vinegar
2 tablespoons crushed red pepper
1/2 tablespoon chopped fresh garlic
1/2 tablespoon kosher salt
1 tablespoon freshly ground black pepper
North Carolina Pit Style Cooking
In order to get the full effect of North Carolina barbecue, you need to utilize the same cooking methods. North Carolinians use a pit-style cooking method which is most notably one of their cooking styles that traditionally comes from Native American influence.
Pit-style can refer to a pit either below ground or above ground to cook meats. It is a very slow cooking style that uses an array of woods to flavor the meat while breaking down all of the connective tissue in the meats which produces the fall off the bone effect.
2. Tennessee Style
Tennesse barbecue is most notably dubbed Memphis-style BBQ. Unlike North Carolina, it doesn't date back to 19th century times. Instead, we see Memphis-style BBQ make its presence post World War II. In this period of time, it was common for small restaurant chains focused on barbecue foods to begin popping up through small, low-income neighborhoods.
What is Memphis-Style Barbecue?
Memphis-style bbq is made using pork ribs and shoulders. However, some Memphis styles will utilize beef and chicken as well. Using a pit, similar to North Carolina, the meats are slowly cooked after being thoroughly covered in a dry or wet rub. The meats will be eaten without a sauce since the rub is applied prior to cooking or during giving the meat ample flavors.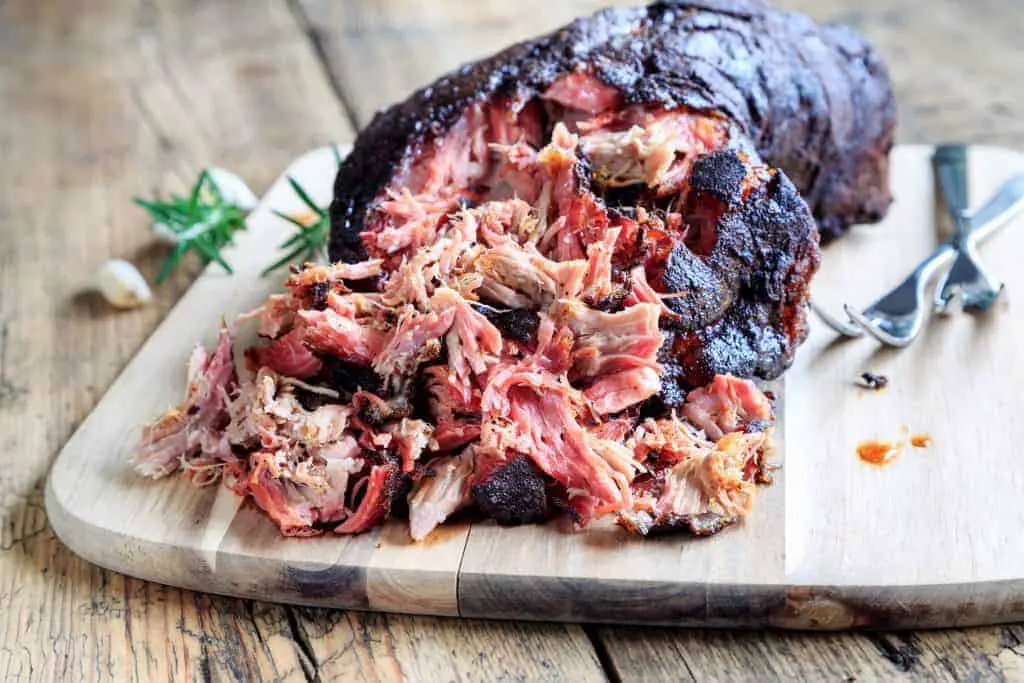 Popular Memphis-Style Rubs
Ingredients
1/4 cup brown sugar
1/4 cup white sugar
1/4 cup paprika
3 tablespoons salt
1 tablespoon onion powder
1 tablespoon cayenne pepper
1 tablespoon ground black pepper1
tablespoon garlic powder
1 tablespoon chili powder
Ingredients
3/4 cup ketchup
6 tablespoons apple juice
2 tablespoons molasses
2 tablespoons cider vinegar
2 tablespoons Worcestershire sauce
1 tablespoon yellow mustard
1 teaspoon pepper
1/4 teaspoon liquid smoke
Tennessee's Notable Restaurant Chains
Tennesse is widely known for its pop up and now regional chains serving the iconic Memphis-style bbq meats. A lot of them even offer to ship their food anywhere in the country overnight using Fedex's superhub in Memphis.
Jim Neely's Interstate Bar-B-Que
When Jim Neely concocted his family sauce recipe and opened up the doors to his restaurant in 1978, he had no idea how fast the popularity of his slow-cooked ribs would soar. Now rated the #2 barbecue restaurant in the country by People Magazine, his chain remains the premier restaurant to grab some iconic Memphis-style bbq.
In fact, the nephew of Jim Neely, Patrick, and his wife Gina are the hosts of the popular show Down Home with the Neelys on Food Network, which became one of the highest-rated series in Food Networks history. They even released a cookbook that very quickly made the New York Times best-seller list. Learn more about the Neely family and their infamous Memphis-style recipes here.
Charlie Vergos' Rendezvous
Started in a downtown Memphis alley-way in 1948 Charlie Vergos discovered a coal chute in the basement of his diner. He turned it into a barbecue pit and the rest is history. The hole-in-the-wall vibes this historic restaurant produces is what gives it it's original and authentic place in Memphis's barbecue history.
3. Kansas City Style
Kansas city-style barbecue will give you every meat under the sun. Pork, beef, chicken, turkey, lamb, sausage, and fish. There isn't a meat that this style of barbecue doesn't compliment, and the residents of Kansas City aren't afraid to try it.
Kansas City is home to the Great Lenexa BBQ Battle and the American Royal World Series of Barbecue which is the largest barbecue competition in the world. Kansas City can actually trace it's barbecue roots back to one man in the early 19th century. His name is Henry Perry, and he is also referred to as the father of Kansas City barbecue.
Check out Henry Perry's Bio in the barbecue hall-of-fame.
Kansas City founded a Kansas City Barbeque Society (KCBS) in 1986. This society has over 13,000 members worldwide and is currently the largest organization for barbecue enthusiasts who share a preference for the Kansas City Style. Check out their website here for more information.
What is Kansas City Style Barbecue?
With the wide variety of meats utilized in this style of BBQ, Kansas City Style favors crusty, burnt ends on their meat that is smoked to perfection. This style begins with the meat being rubbed down with infamous Kansas city rub recipes, and then slow-smoked, the end result is a perfectly cooked meat which is then served with a sweet, spicy, or tangy tomato-based sauce.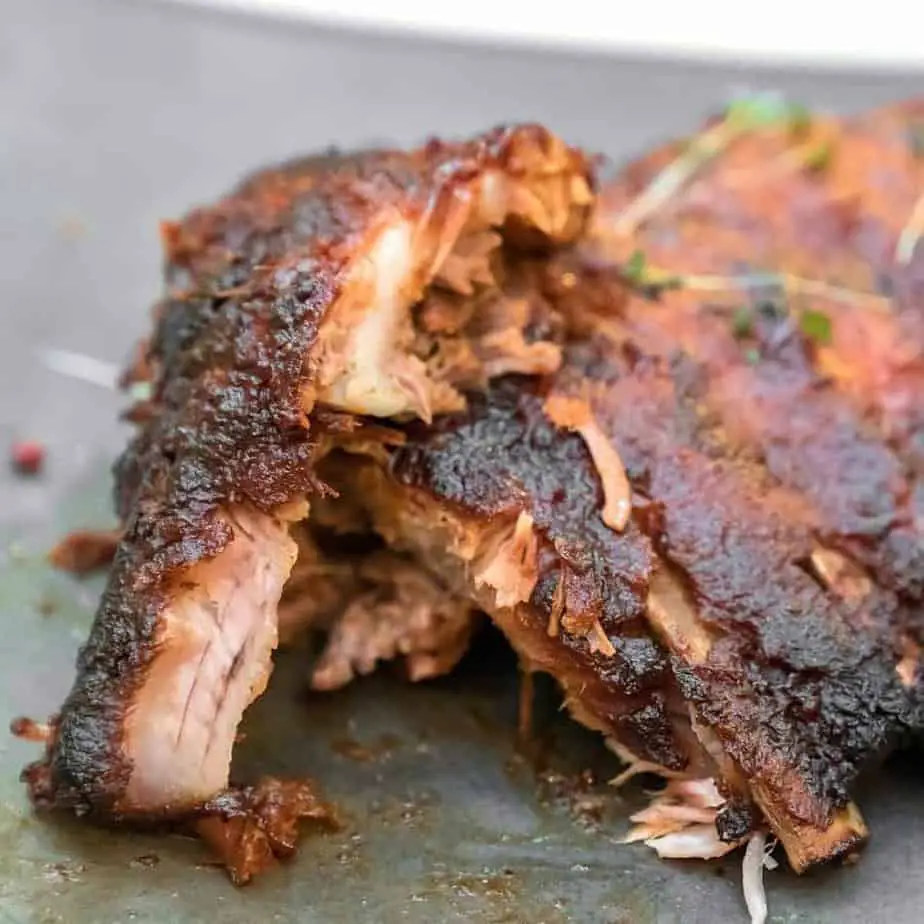 Popular Kansas City-Style Rubs
Ingredients
1/2 cup/120 mL brown sugar
1/4 cup/60 mL paprika
1 tablespoon/15 mL black pepper
1 tablespoon/15 mL salt
1 tablespoon/15 mL chili powder
1 tablespoon/15 mL garlic powder
1 tablespoon/15 mL onion powder
1 teaspoon/5 mL cayenne
Kansas City Style Pork Rib Rub from foodnetwork.com
Ingredients
2 cups brown sugar
1/2 cup dry mustard
1 tablespoon cayenne pepper
1 tablespoon smoked paprika
1 tablespoon garlic powder
1 tablespoon onion powder
1 tablespoon salt
2 teaspoons freshly ground black pepper
Popular Kansas City-Style Sauces
Looking for a highly rated Kansas City-Style BBQ Sauce? Check this one out from foodnetwork.com.
Ingredients
2 tablespoons neutral-tasting oil, such as grapeseed or vegetable
6 cloves garlic, smashed
2 tablespoons tomato paste
1 slightly heaping tablespoon chili powder
1 tablespoon paprika
1 teaspoon crushed red pepper
1/4 teaspoon ground allspice
Pinch ground cloves
2 cups ketchup
2 cups water
1/2 cup cider vinegar
1/4 cup dark molasses
1/4 cup firmly packed dark brown sugar
1 tablespoon kosher salt
1 tablespoon soy sauce
1 tablespoon Worcestershire sauce
2 teaspoons English-style dried mustard
1 teaspoon freshly ground black pepper
1 bay leaf
Get a classic Kansas City-Style Touch with this BBQ sauce recipe from amazingribs.com.
Ingredients
2 tablespoons American chili powder
1 teaspoon ground black pepper
2 teaspoons Morton's kosher salt
2 cups ketchup
1/2 cup yellow ballpark-style mustard
1/2 cup cider vinegar
1/3 cup Worcestershire sauce
1/4 cup lemon juice
1/4 cup steak sauce
1/4 cup dark molasses
1/4 to 3/4 cup honey (see note below)
1 teaspoon hot sauce
1 cup dark brown sugar (you can use light brown sugar if that's all you have)
3 tablespoons vegetable oil
1 medium onion, finely chopped
4 medium cloves of garlic, crushed or minced
Notable Kansas City Barbecue Restaurants
Fiorella's Jack Stack Barbecue
This small chain of barbecue restaurants was founded in 1974 by the Fiorella family-owned chain of Smoke Stack Barbecue restaurants. The first location was on Prospect Avenue in south Kansas City. Some argue this chain has the best barbeque that Kansas City has to offer. We'll let you be the judge, though.
Joe's Kansas City Bar-B-Que (Formerly Known As Oklahoma Joe's Barbecue)
Started by Jeff and Joy Howell, these two were recognized for their prestigious championship awards in major barbecue competitions across the country and Kansas City. They officially opened the doors in 1996 and have been formally recognized by Anthony Bourdain as one of the 13 Places You Must Eat Before You Die.
Check out this Food Insider video on Joe's Kansas City Bar-B-Que.
4. Texas Styles
Last but not least, on the list of notable barbecue regions in America, Texas. Texas actually has four distinct styles of barbecue, which are defined by region, east, central, west, and south. These barbecue traditions are thought to have stemmed from German and Czech settlers in the mid-19th century in Texas.
Texas is home to the first state dinner barbecue in U.S. History which was hosted by Lyndon B. Johnson in 1964 to host the Mexican president-elect in Johnson City, Texas.
Central Texas Style Barbecue
Central style barbecue is rubbed in salt and black pepper and cooked overheat from pecan, mesquite or oakwood indirectly. The sauce can be served on the side, but many times it's seen as unnecessary altogether due to the rich and distinct flavor that the meat offers. Central style barbecue focuses on picking only high quality, rich meats from vendors, that will serve the best flavor.
East Texas Style Barbecue
The East Texas Style takes a different approach entirely, marinating the meat in a sweet and flavorful tomato sauce then slowly cooking it over hickory wood until it is tender and falling off the bone. East Texas-style barbecue focuses on chopped meat as opposed to sliced and is generally either beef or pork that is served on a bun.
West and South Texas Style Barbecue
These styles are much less popular than the Central and East Texas Style barbecues. West Texas Style (also known as cowboy style) is essentially the same as East only the meat will be cooked directly over mesquite wood. While South Texas Style Barbecue features thick sauces that keep the meat from drying out.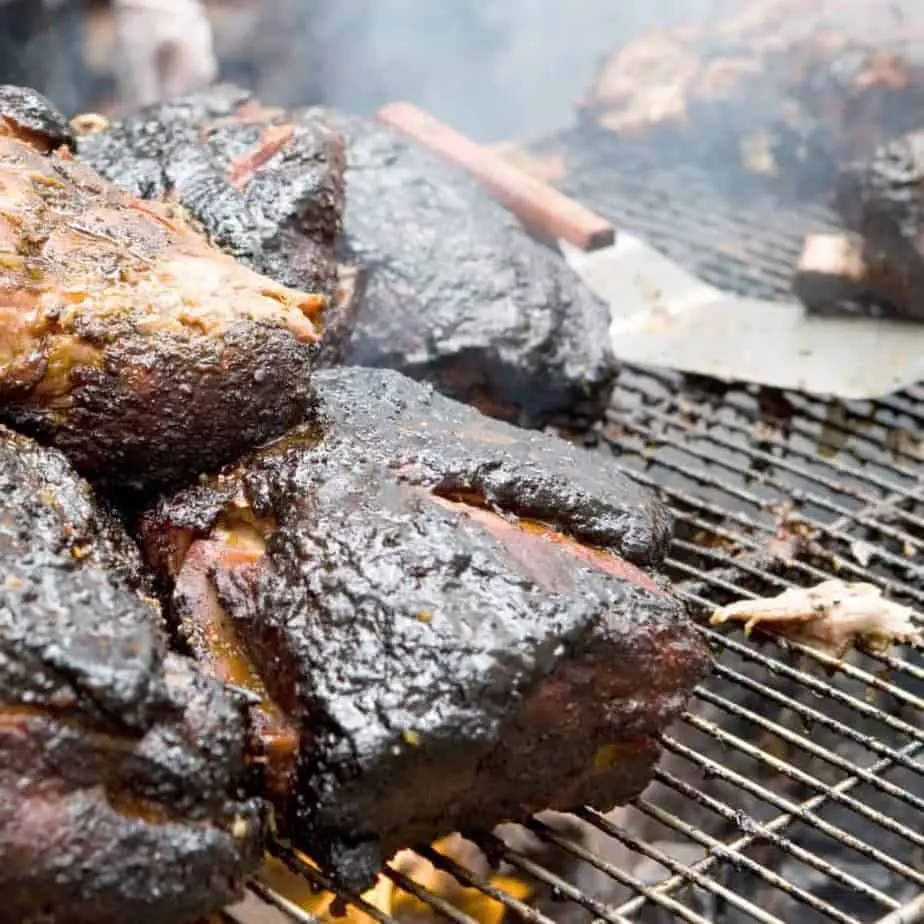 Texas-Style BBQ Sauce Recipes
Check out this tasteofhome.com recipe for Texas-Style BBQ Sauce
Ingredients
1 tablespoon butter
1 small onion, chopped
2 garlic cloves, minced
1 cup ketchup
1/4 cup packed brown sugar
1/4 cup lemon juice
2 tablespoons apple cider vinegar
2 tablespoons tomato paste
1 tablespoon yellow mustard
1 tablespoon Worcestershire sauce
2 teaspoons chili powder
Thespruceeats.com features a traditional take on Texas Barbecue Sauce
Ingredients
1/4 cup butter
1/4 cup onion (minced)
3 stalks celery (chopped)
2 cloves garlic (minced)
1 cup water
1 teaspoon beef bouillon (1 cube)
1 cup ketchup
1/2 cup apple cider vinegar
3 tablespoons Worcestershire sauce
2 tablespoons spicy mustard
2 tablespoons honey
1 tablespoon paprika
2 teaspoons chili powder
Salt, to taste
Pepper, to taste
What is Barbacoa?
Barbacoa originated from the Caribbean and made it's way from Mexico eventually being adopted into the southwestern cuisine of Texas. Although it's not exactly the same as the American barbecue methods we are familiar with, the term barbecue is actually derived from the term Barbacoa.
Barbacoa is infamous for its high-fat content and strong flavor that is steamed to the perfect tenderness. It can be served over warm corn tortillas with diced onions cilantro and lime juice in the form of a taco. Barbacoa is actually considered specialty meat, and in some parts of South Texas and all of Mexico, it can only be found sold on weekends or holidays.
Other Regional Styles
While these 4 regions may be the most infamous and widely popular styles of barbecue, there are many more across the states that can be explored and tasted. If you're still looking for your favorite twist on barbecue some more notable regions to explore barbecue in are:
Alabama
Georgia
Baltimore
Florida
Kentucky
St. Louis
Oklahoma
California
Barbecue is a very distinct cooking culture in the United States that boasts many traditional ways of cooking meats for gatherings and dinners. Over time these many methods have evolved, or taken on additional ingredients. Many families even have their own recipes by means of rubs and sauces. While many of these styles follow specific guidelines, don't be afraid to try your hand at creating your own barbecue recipe.